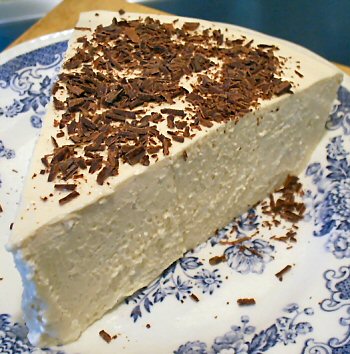 1 packet unflavored gelatin
3/4 cup
Da Vinci
sugar free syrup, vanilla flavor
24 ounces cream cheese, softened
1/2 cup natural peanut butter
1 cup heavy cream, whipped
Whipped cream or Whipped Topping for garnish, optional *
Grated chocolate, optional *
In a small pot, sprinkle the gelatin over 1/2 cup syrup and let soften 5 minutes. Heat and stir over low heat to dissolve the gelatin completely. Do not boil. Cool to room temperature. You can also dissolve the gelatin in the microwave by heating it about 30 seconds or so on HIGH. Stir until completely dissolved.
Beat the cream cheese and peanut butter until creamy. Gradually beat in the remaining 1/4 cup syrup and the gelatin mixture; beat until fluffy. Gently fold in the whipped cream. Pour into a greased 9-inch pie plate. Chill until set, about 5-6 hours. Garnish with whipped cream or Whipped Topping, if desired. This tastes even better the next day.
Makes 8-12 servings
Can be frozen, but quality will suffer
* I used some Lindt 85% Cocoa chocolate and the amount I grated didn't even register on the scale. To be safe, I counted 1/4 ounce of chocolate to garnish the whole pie and it had no significant affect on the carbs per serving. However, I didn't include the chocolate or the whipped cream in the counts below.
Per 1/8 Recipe: 493 Calories; 48g Fat; 11g Protein; 6g Carbohydrate; 1g Dietary Fiber; 5g Net Carbs
Per 1/12 Recipe: 328 Calories; 32g Fat; 8g Protein; 4g Carbohydrate; .5g Dietary Fiber; 3.5g Net
http://www.lowcarbfriends.com/bbs/lowcarb-recipe-help-suggestions/542807-im-love-lindas-no-bake-peanut-butter-cheesecake.html